Posted 11 November, 2015 by Mandy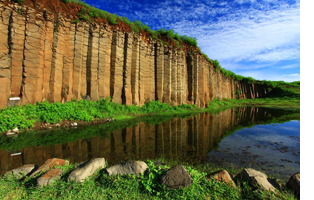 In Penghu County, Taiwan, the "the Canary Islands of the Orient," a local official has requested that the central government expand the capacity of a desalination plant that is scheduled to open in 2018. Last week, Penghu County Magistrate, Chen Kuang-fu, made his appeal during a meeting with the deputy head of the country's Water Resources Agency. Chen requested an increase of 6,000 cubic metres per day, as opposed to the scheduled 4,000 cubic metres a day.

Penghu County includes almost 100 islands formed from lava of volcanic eruptions roughly 17 million years ago. A quarter of these islands are inhabited, and renowned for their breath-taking, geologically distinct cliffs and beaches, magnificent ocean views, celebrated temples, and traditional Chinese-style homes surrounded by coral walls.
Basalt columns on the Penghu Islands | Credit: Medical Travel