DESAL DATA TERMS AND CONDITIONS
About Us
GWI DesalData is produced by Global Water Intelligence, the unchallenged leader in highvalue business information for the international water sector.
For 15 years Global Water Intelligence has been helping clients make the most informed strategic decisions by providing expert-led publications, newsletters, databases and market research reports. Over the years, we have acquired an expert team of researchers and journalists with backgrounds in finance, economics, water and technology who are extremely well-connected. Our team has an unparalleled network of senior executives, utility and industry leaders working within the business of water, enabling us to bring you exclusive and reliable insights into the key trends, developments and opportunities within the water sector.
The portfolio of intelligence we produce has expanded significantly since 2002. Since launching Global Water Intelligence Magazine, we have acquired and developed The Water Desalination Report, WaterData and have become the commercial partner of The Produced Water Society. We have also published deep dive market research reports spanning a range of key markets including heavy water-using industries, control and monitoring systems, the oil and gas markets, municipal and industrial water technology and services as well as 4 editions of the bestselling, industry-renowned Global Water Market report.
GWI DesalData is the culmination of this expansive research portfolio, the goal is to bring our research together in a single, intuitive online platform that makes it easy for our customers to access intelligence that will drive their business forward in the touch of a button.
Click the links below to find out more about other Global Water Intelligence Publications:
Market Report
DesalData Market Focus Deck, 2023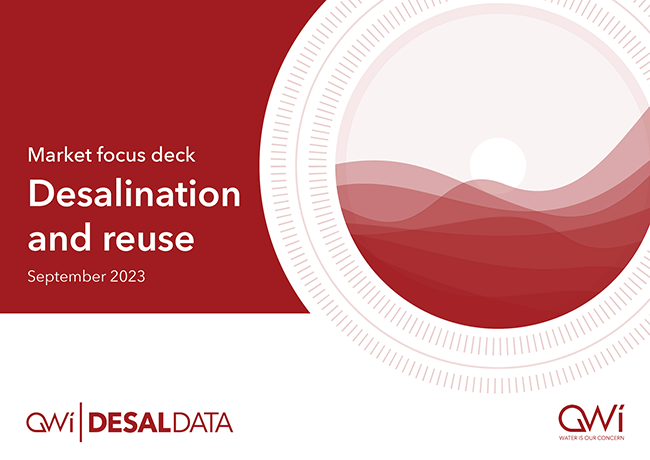 The desalination & reuse sectors are experiencing their strongest boom in new capacity ever, bouncing back from the COVID-19 pandemic to even greater heights than before. Driven by worsening water scarcity, growing populations, and increasing industrial water demand these sectors are expected to experience strong growth both in the short and long term. With rich pipelines of both independent water projects and traditional EPC contracts in the GCC as well as new building programmes in North Africa, the Middle East is set to remain the preeminent regional market for desalination.
Meanwhile, on the reuse side, strong demand and growing regulatory pressures in China, the USA, and India present strong opportunities for businesses able to position themselves to capitalise within these high growth markets, whilst long-term trends of population growth, urbanisation and industrialisation mean that demand for reuse will remain strong over the next few years. The same drivers are leading to increasing interest in brine concentration technologies such as evaporators and crystallisers.
Capitalising on the associated opportunities during these unprecedented levels of growth will require an in-depth knowledge of international markets and a keen appreciation of where spending is likely to be concentrated, which areas are primed for the highest levels of growth, where project opportunities will arise, and how best to access them. This slide deck will provide your business with granular spending forecasts up to 2028, competitive intelligence, project data, and a wealth of key insights collected by our analysts over the last year to help you ensure that you maximise your potential within this fast-growing market.
Included in the slide deck:
CAPEX and OPEX forecasts: Equipment/service type, plant type, region, end-user.
Contracted and Operating capacity forecasts: Technology, region, end-user.
Reuse forecast by: Region, installed capacity by reuse application and treatment level, installed triple barrier and tertiary treatment by capacity and country.
Key Market Profiles: A detailed breakdown of the world's top desalination and reuse markets alongside in-depth forecasts and analysis on key opportunities within each of them.
Testimonials
"DesalData is a great tool for our sales and marketing team to help guide our company's desal focus for new business. The global news updates, database search, and market analysis provided in forecast webinars give valuable insight to the global market and key trends."
Alisha Cooley, FEDCO
"Informative, inclusive and insightful. The only website you need to subscribe to if you are working on the desalination sector."
Nagy Elashmany, Alireza
"GWI DesalData helps us track the status of global desalination projects along with key project information. It gives us access to information that we would find difficult to get on our own. If the desalination market is very important for your business and for market research, I would recommend subscribing to GWI DesalData."
Hyejin Ko, LG Chem

Request a demo
The world's leading EPC contractors & equipment suppliers trust DesalData to provide comprehensive and unrivalled forecast data on the global desalination market.
Your Data
When you submit this form we will store your data, including your name, company, telephone, email and country, securely in our CRM Database and on our web server. We will use this data to contact you by telephone or email to arrange a time for the demo you have requested, and where relevant, to tell you about other products and information we offer which we believe will be of interest to your business. We will never sell of pass your personal data on to 3rd parties, except where we are required to by law or in order to fulfil a contract of sale with you, e.g. to deliver a printed product you have purchased through a 3rd party mailing house. You have the right to stop hearing from us at any time, either by telling us on the telephone (+44 (0)1865 204208), clicking the unsubscribe links in our emails, or by emailing emailing
privacy@globalwaterintel.com
. For full information on how we store and use data and our commitment to your privacy please read our full
privacy policy
.