Posted 02 September, 2015 by Mandy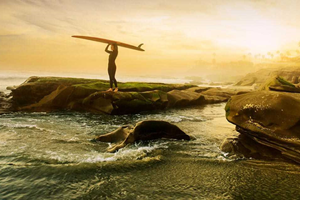 In San Diego, during California's crippling drought, the International Desalination Association has kicked off its 2015 World Congress. The event is focused on desalination and water reuse, and brings together delegates from across the world every two years. In the words of the IDA Secretary General, Patricia Burke, the purpose of the event is "to address the growing demand for a sustainable source of fresh water in response to population growth, economic expansion, degradation of existing resources, and the effects of climate change." The location is fitting, as San Diego is home to the nearly finished Carlsbad Desalination Plant—the largest in the Western hemisphere.
[1] Congress participants include technology developers, researchers, academics, engineers, consultants, and suppliers. Among the several keynote speakers are Kevin Faulconer, the Mayor of San Diego, and Dr. Benjamin Cook, NASA scientist at the Goddard Institute for Space Studies and the lead author of a recent NASA study linking carbon emissions to megadroughts in the U.S. (discussed here on June 3). The event will take place through September 4, and features a four-day Technical Program, IDA Academy courses, and "A Celebration of California" at the Scripps Institution of Oceanography. The Technical Program will include topics such as environment and sustainability and water reuse and disinfection.[3]
At Santa Catalina Island, off the southern coast of California, Southern California Edison (SCE) is expanding an existing desalination plant.[4] The island is experiencing an intensive annual drought that requires periods of heavy rationing (as reported in our July 1 review). As a popular tourist destination, the island's hotel business is among the most acutely affected. The expectation is that the renovated desalination facility will produce enough water to defer or avoid the annual water rationing. The daily output will increase from 200,000 gallons of water per day (567 m³/d) to 350,000 gallons of water per day (1,325 m³/d). SCE will use GE's advanced desalination technology (known as SeaTech-84), and the system is expected to be in operation by September 2015.[5]
In the United Arab Emirates, Aquatech, a global company specializing in desalination and wastewater reuse, has completed its 15 MIGD seawater reverse osmosis desalination plant in Ghalilah.[6] The facility supplies drinking water for the Emirate of Ras Al Khaimah and produces 15 million Imperial gallons per day (68,190 m³/d). The plant will help the UAE approach its goal of reducing groundwater use by 90 percent within the next two years.[7]
---